Who We Serve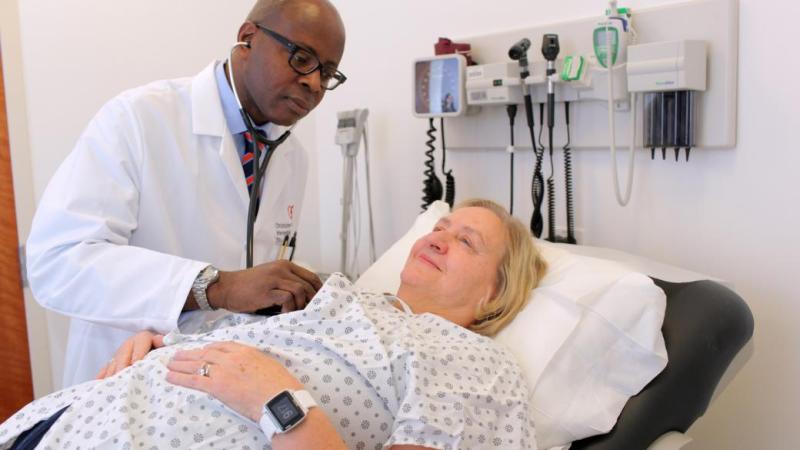 Columbia's Department of Medicine brings together faculty, students, and patients from across New York City, the United States, and abroad.
Our Patients
Columbia proudly serves patients from our neighboring communities of Washington Heights and Harlem. These are among New York City's most diverse neighborhoods, with a predominantly Black and Hispanic population. Residents in our community face many health disparities that negatively affect health outcomes and have some of the city's highest rates of chronic disease. Nearly 30% of residents in our neighborhood live below the federal poverty level.
We are committed to ensuring that our neighbors have access to the highest levels of health care, identifying and addressing the health care challenges that disproportionately impact our community, and reducing barriers to care.
Our Faculty
Our faculty are renowned physicians, scientists, and educators who are committed to the values of excellence in medical education, patient care, biomedical research, and community service. They pursue scientific discoveries to advance care, provide the best care available, and train the next generation of caregivers.
Our faculty are working to identify and overcome the logistical, structural, and cultural barriers that prevent low-income communities from accessing life-saving health care. To support our faculty in this work, Columbia seeks to expand and improve its recruitment and retention efforts.
Our Researchers
Columbia University's Department of Medicine is one of the most-research intensive departments in the country. We are frequently ranked among the top 5 for extramural peer-reviewed funding from the Federal government's National Institutes of Health. Our faculty are international leaders, conducting research across the broad spectrum of health-related investigations; laboratory-based, translational, clinical, and epidemiologic. The Department also offers rigorous and comprehensive research training opportunities for those at every career level, including medical and graduate students, clinical fellows, postdoctoral scientists, and junior faculty. Our faculty are committed to supporting our junior investigator collaborators as they continue on their paths to successful academic research careers. They also continue to build upon and expand our long history of enhancing the diversity of the biomedical research workforce; through innovative programmatic efforts as well as individual mentoring relationships. Our research programs offer opportunities to incorporate and focus on health disparities research and social determinants of health within our broad research enterprise.
Our Students 
Our students are the future of health care. We prepare our physicians-in-training to be skilled, equitable, compassionate, and respectful caregivers to each patient in every community we serve. We strive to create an environment in which our trainees and faculty feel a sense of belonging, support, appreciation, and respect for who they are.
As part of our effort to create new career pathways in the biomedical sciences, Columbia is mentoring high school students, building ties to Historically Black Colleges and Universities (HBCUs), and engaging medical students and fellows from communities like Washington Heights and Harlem.