Scholars Programs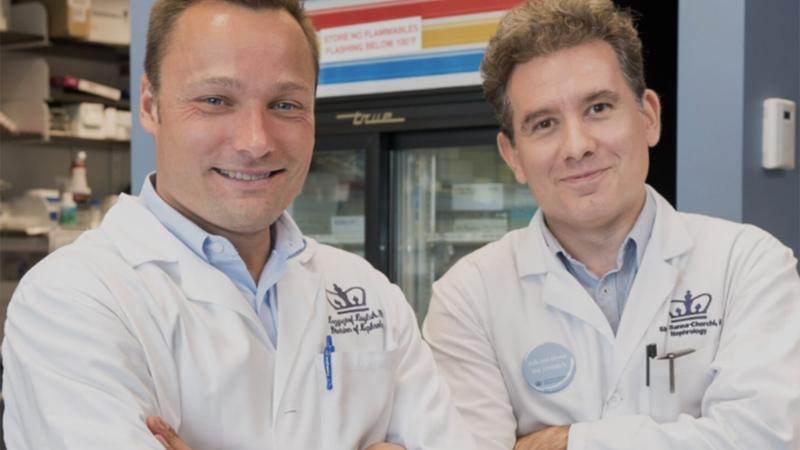 Listed below are highly competitive Columbia University Irving Medical Center peer-reviewed funding programs awarded to Department of Medicine faculty.
Irving Scholars
The Florence and Herbert Irving Clinical Research Career Awards ("Irving Scholars") are three-year awards funded by the Irving Endowment. Recipients are assistant professors conducting independent, well-developed scientific initiatives in clinical investigation.
2021-24

Dr. Keith Diaz: "Breaking Up Prolonged Sedentary Behavior to Improve Cardiometabolic Health: Investigating the Effectiveness of Resistance Exercises"
Dr. Hanrui Zhang: "Targeting Macrophage Proliferation and Efferocytosis in Atherosclerosis"

2020-23

Dr. Jennifer Amengual: "Precision Targeting of HAT Enzymes to Activate Immune Surveillance"
Dr. Daniel Freedberg: "Decreasing Healthcare-Associated Infections by Preventing Gastrointestinal Pathogen Colonization in the Intensive Care Unit"

2019-22

Dr. Nathalie Moise: "Harnessing Precision Medicine and Implementation Science to Improve Psychological Distress Treatment in Breast Cancer Patients"
Dr. Gissette Reyes-Soffer: "Unraveling the Complexities of Lipoprotein(a) in Humans Through Stable Isotope Metabolic Studies, Proteomics, and Particle Characterization"
Dr. Emily Tsai: "Validation and Translation of a Novel Transcriptomic Signature of Right Ventricular Failure"

2018-21

Dr. Kevin Kalinsky: "Clinical Trial of Systems-Biology Directed Therapy in Patients with Metastatic Triple Negative Breast Cancer"
Dr. Max O'Donnell: "A Precision Medicine Approach to Enhanced Detection and Genomic Characterization of Emerging Respiratory Pathogens in Uganda"
Dr. Elizabeth Oelsner: "E-Cigarette Effects on Sputum Biology: Identifying Extent and Suscaeptibility in Healthy Adults"
Dr. Yvonne Saenger: "Establishing a Prognostic Immune Signature in Early Stage Melanoma by Measuring mRNA Transcripts Using the NanoString Assay and Quantitative Multiplexed Immuno-Fluorescence"

2017-20

Dr. Matthew Baldwin: "Frailty Endotypes in Survivors of Acute Respiratory Failure"
Dr. Simone Sanna-Cherchi: "Genetic Studies in Posterior Urethral Valves"

2015-18

Dr. Fay Kastrinos: "Development and Validation of a Genetic Risk Assessment Model for the Identification of Individuals with a Hereditary Susceptibility to Pancreatic Cancer"
Dr. Krzysztof Kiryluk: "Genetic Determinants of Allograft Rejection: Implications for Precision Medicine"

2014-17

Dr. Siddhartha Mukherjee: "Predicting the Responsiveness to a Novel Multi-Kinase Inhibitorin Patients with Low-Risk Myelodysplastic Syndrome"
Dr. Anne-Catrin Uhlemann: "Molecular Tracing of Carbapenem-Resistant Enterobacteriacae Colonization and Infections in Liver Transplant Patients"

2013-16

Dr. Julian Abrams: "Risk Factors and Markers for Intestinal Metaplasia of the Gastric Cardia"
Dr. Benjamin Lebwohl: "The "Celiac Stomach": Gastric Environment and the Risk of Celiac Disease"

2012-15

Dr. Andrew Einstein: "Reducing Radiation Dose from Coronary Computed Tomography Angiography Using Low-Voltage and Single-Heartbeat Volume Scanning"
Dr. Andrew Moran: "Cost-Effectiveness of Primary Cardiovascular Disease Prevention in U.S. Adults Based on 30-Year Risk"

2011-14

Dr. P. Christian Schulze: "Skeletal Muscle and Myocardial Lipotoxicity in Heart Failure"
Dr. Marcella Walker: "Cardiovascular Effects of Vitamin D Deficiency"
Dr. Michael Yin: "Vitamin D: Effects on Bone Mass, Muscle Strength, and Immune Function in HIV-Infected Women"

2010-13

Dr. Adi Cohen: "Do Premenopausal Women with Idiopathic Osteoporosis (IOP) have Obese Bones?"

2009-12

Dr. Katherine Crew: "Chemopreventive and Anticancer Potential of Vitamin D and Rosemary on Breast Cancer"
Dr. Thomas Nickolas: "Novel Tools for Assessing Bone Microstructure and Remodeling in Chronic Kidney Disease"

2008-11

Dr. David Lederer: "Race, Society, and Biology in Pulmonary Fibrosis"
Dr. Mishaela Rubin: "Hypoparathyrodism: Circulating Osteoblast Precursors"
Dr. Daichi Shimbo: "A Translational Study of Anger, Endothelial Cell Injury, and Oxidative Stress"

2007-10

Dr. Paolo Colombo: "Endothelial Oxidative Stress in Heart Failure"
Dr. Jose Luchsinger: "Metformin in the Prevention of Cognitive Decline"

2006-09

Dr. Dawn Hershman: "Multidisciplinary Studies in Breast Cancer Treatment-related Toxicity"

2005-08

Dr. Sanja Jelic: "Endothelial Cell Oxidative Stress in Obstructive Sleep Apnea"
Dr. Andrew Joe: "Intermediate Markers of In Vivo Biological Activity of the Potential Chemoprevention Compound Polyphenon E"

2004-07

Dr. R. Graham Barr: "Endothelial Dysfunction is a Novel Component of Chronic Obstructive Pulmonary Disease"
Dr. Mathew Maurer: "Studies of the Pathophysiology of Diastolic Heart Failure"

2003-06

Dr. Hina Chaudhry: "Cardiomyocyte Cell Cycle Control and Human Heart Failure"
Dr. Ali Gharavi: "Genetic Studies of IgA Nephropathy"

2002-05

Dr. Steven Kawut: "Neurohormonal Activation in Pulmonary Hypertension"
Dr. Judith Korner: "Targeting the Melancortin and Dopamine Pathways in Obese Non-Diabetic Humans: Effects on Body Weight, Glucose and Lipid Metabolism"

2001-04

Dr. Charles Powell: "Glypican 3: A Potential Lung Tumor Suppressor"

2000-03

Dr. Kyriakos Papadopoulos

1999-2002

Dr. Pamela Freda
Dr. Rachel Miller

1998-2001

Dr. Jean Ford
Dr. Catherine Tuck

1996-99

Dr. Robert Fine
Dr. Robin Goland

1995-98
1993-96
1993-97
1992-95
1990-93
1988-90
1987-93
Louis V. Gerstner, Jr., Scholars
The Louis V. Gerstner, Jr., Scholars Program is a Vagelos College Of Physicians & Surgeons program that supports young physician-scientists who conduct translational research designed to bring new treatments to patients. The program originated in 2008 and, to date, four three-year awards have been made each year.
2021

Dr. Aaron Viny
Division of Hematology & Oncology
"Alterations in DNA Methylation and Chromatin Structure as Convergent Pathogenic Drivers in Myelodysplastic Syndrome"
Dr. Xiao Zhao
Division of Digestive and Liver Diseases
"The Molecular Basis of Cholangiocyte Identity and Injury in Biliary Atresia"

2020

Benjamin Izar, MD, PhD
Division of Hematology & Oncology
"Immune Fitness Testing with Single-Cell Readouts in Melanoma Patients"
Jared Kushner, MD
Division of Cardiology
"Regulators and Interactomes of CaV1.2 in Health and Disease"

2017

Barry Fine, MD, PhD
Division of Cardiology
"The STK25 Signaling Pathway in Cardiomyocytes"
Dr. Arnold Han, MD, PhD
Division of Digestive and Liver Diseases
"T Cell Function and Specificity in Colorectal Cancer"
Dr. Kelley Yan, MD, PhD
Division of Digestive and Liver Diseases
"Age-Related Changes in Intestinal Stem Cell Function"

2016

Ziad Ali, MD, DPhil
Division of Cardiology
"Role of the Receptor Tyrosine Kinase ROS1 in Pulmonary Arterial Hypertension"

2015

Max O'Donnell, MD
Division of Pulmonary and Critical Care Medicine

2014

Benjamin Lebwohl, MD, MS
Division of Digestive and Liver Diseases
"Gluten and the Microbiome in Individuals with Celiac Disease and Non-Celiac Gluten Sensitivity"
Elaine Wan, MD
Division of Cardiology
"Role of Vascular Ion Channels In Heart Failure"

2013

Anjali Ganda, MD, MS
Division of Nephrology
"Mechanisms of Monocytosis and Accelerated Atherosclerosis in Patients with Chronic Kidney Disease"

2012

Fay Kastrinos, MD, MPH
Division of Digestive and Liver Diseases
"Identification of Pathogenic Mismatch Repair Gene Variants for the Early Detection of Inherited Colorectal Cancer"

2010

Julian Abrams, MD, MS
Division of Digestive and Liver Diseases
"Gastrin and its Role in the Development of Esophageal Adenocarcinoma"
Andrew Einstein, MD, PhD
Division of Cardiology
"Estimating and Reducing Cancer Risk from Coronary Computed Tomography Angiography using Single-Heartbeat Volume Scanning"
Tamas Gonda, MD
Division of Digestive and Liver Diseases
"Targeting Global DNA Methylation in Stromal Cells of Gastrointestinal Cancers"

2009

John Morrow, MD
Division of Cardiology
"Novel Therapeutic Targets to Prevent Sudden Death in Heart Failure Patients"
Utpal Pajvani, MD, PhD
Division of Endocrinology
"The Role of Notch1 in Regulation of Hepatic Gluconeogenesis"

2008

Igor Matushansky, MD, PhD
Division of Hematology/Oncology
"Solid Tumor Differentiation Therapy for Sarcomas"
Paul A. Marks Scholars Program
The Paul Marks Scholars Program supports outstanding early career scientists who have distinguished themselves as exceptionally promising in their field.
2021

Xuebing Wu, PhD
Division of Cardiology

2015

Simone Sanna-Cherchi, MD
Division of Nephrology

2012

Ziad Ali, MB ChB, DPhil
Division of Cardiology
"Identifying Vascular Bed Specific Targets of Atherosclerosis using Network Analysis of Differential Expression"
Utpal Pajvani, MD, PhD
Division of Endocrinology

2010

Jonathan Lu, MD, PhD
Division of Cardiology
"Human Cardiomyocyte Model of Inherited Arrhythmia Using Induced Pluripotent Stem Cells"
Benjamin Ohlstein, MD, PhD
Dept of Genetics & Development
Anne-Catrin Uhlemann, MD, PhD
Division of Infectious Diseases