Bringing Life and Joy into the World, 40 Years and Counting
Since 1983, Columbia's Fertility Center Has Helped Couples Through Difficult Times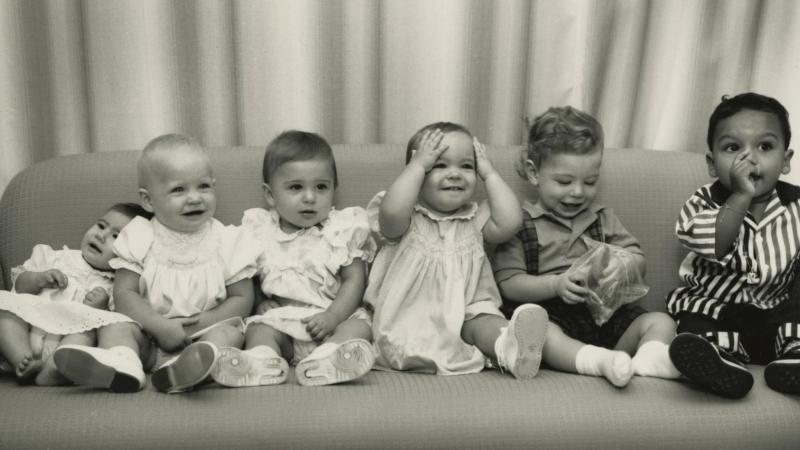 By Brenda Lange 
During a ceremony officially opening an expansion of the Columbia University Fertility Center in 2022, the center's director stressed the true nature of the center's work. "When you think about what it is that we do, it's about life. It's about the future. It's about optimism and looking ahead. It is about bringing life and joy into the world. That is what we're all about. That is why we are here," said Zev Williams, MD, PhD.
"It's true we have a beautiful space, state-of-the-art equipment, and technology that's years ahead, but what really sets us apart is the heart of our people, the commitment to helping women and couples through very difficult times."
That level of personalization—or heart—is part of the reason the center is one of the preeminent facilities in the world for addressing infertility in women and men. In addition to offering individualized care, including in vitro fertilization, the center advances the field for patients everywhere by being part of a large academic medical center where innovation, research, and clinical care are aligned, says Dr. Williams, the Wendy D. Havens Associate Professor of Women's Health at VP&S and chief of the Division of Reproductive Endocrinology and Infertility.
It Wasn't Always This Way…
The first human egg was fertilized outside a woman's body in 1944; the process was quickly coined "test-tube baby" even though the fertilization took place in a petri dish.
Nearly 30 years later, in 1973, Landrum Shettles, MD, PhD, associate professor of obstetrics & gynecology at VP&S and an author and reproductive researcher whose work had been featured in several magazine articles, was asked by a Florida couple, Doris and John Del-Zio, to help them conceive a baby after the couple had unsuccessfully tried artificial insemination several times.
The attempt at what is now known as IVF started on Sept. 12, 1973, but the experiment was stopped before the fertilized egg could be implanted into Doris' womb. The world's first IVF baby, Louise Brown, was born in England in July 1978.
Ethical Considerations Slow U.S. Infertility Research
Around the time Louise Brown was born, the New York Times reported that women were being warned not to invest too much hope in the new procedure but to wait for the outcome of the legal and ethical debate and further research.
It was widely thought that IVF could help only women who had blocked fallopian tubes (about 30% of all infertility cases) and that the procedure would always be a last resort, used only after every other approach had been tried.
Ethical questions were also at play. Many felt that fertilizing a woman's egg outside of her body was unnatural and akin to "playing God" and that a woman's wish to have a child didn't give her the right to create it in a way that might end in a baby with birth defects.
Raphael Jewelewicz, MD, who was chief of the Division for Reproductive Endocrinology at VP&S at the time, conjectured that the procedure wouldn't be available for wide use for five more years. The Times reported that he advised patients against traveling to England for the procedure because of the low chance of success. But he saw a use for the procedure beyond blocked fallopian tubes; he thought it would help couples who were unable to conceive but showed no physiological reasons for infertility.
"In cases like this also, we may be able to remove the egg from the patient, stimulate it, and fertilize it," he told the Times. But he predicted the procedure's popularity would depend on its ultimate success rate. "If it stays one out of 30, you're not going to see it performed very often."
Although federal funding for in vitro fertilization research was stopped because of public outcry, privately funded research led to the birth of America's first IVF baby on Dec. 28, 1981, in Virginia.
Slow Progress
More than 15 years later, the odds were still against many women who had trouble conceiving. The high cost of everything involved in IVF—blood tests, ultrasounds, lab work—was not covered by most insurance companies. According to a June 21, 1998, New York Times article, insurance companies started to look differently at coverage after these key events: Insurance coverage for Viagra but not female infertility drugs inspired lawsuits. A female police officer successfully sued the city of Chicago, claiming the city violated the Americans With Disabilities Act because infertility is a disability. With technologies available, the public was increasingly vocal about insurance companies needing to support the right to start families.
Mark Sauer, MD, director of Columbia University's Division of Reproductive Endocrinology in 1998, told the Times: "We're seeing more and more patients going to centers, which increases the volume and lowers the price. Corporate groups, for-profit groups, and HMOs are learning to split the heavy overhead of a university program like research and streamline certain operations."
Columbia Leads the Way
As one of the first centers in the country to treat infertility—generally identified as the inability to get pregnant after one year of trying—Columbia's fertility center has worked with thousands of women since it was established in 1983, contributing to the over 8 million babies who have been born worldwide thanks to assisted reproductive technologies. Columbia offers patients treatments that include hormone therapy, fertility drugs, surgery, and assisted reproductive technology, including IVF.
During its 40 years, the center has been at the forefront of the development of new technologies for the reproductive field and beyond. For example, during the pandemic, the center's scientists repurposed and modified a genetic test that it had used to determine the gender of a fetus within 15 minutes. This rapid salivabased test became one of the first rapid tests for COVID-19.
"So many things have been happening here, even in recent months," says Dr. Williams. "Our cutting-edge innovation is exciting and is making fertility care more effective and easier on patients. The fact that we have researchers doing research and clinicians doing medical care all at one site leverages our incredible expertise to advance the field for our patients and patients everywhere.
"Having our research and development labs and scientists embedded within our fertility center is a unique model. It allows our research and development to be focused on real-world, patientcentric questions and concerns and to work collaboratively with the clinical departments. This allows patients to have rapid access to the most advanced tools to help make major advances in patient care and the patient experience," he adds.
Innovation at Columbia's Fertility Center
The most common cause of embryos not implanting in the uterus and of miscarriages is aneuploidy—too many or too few chromosomes. A common example is Down syndrome. "Testing for aneuploidy—preimplantation genetic screening—has enormous benefits for infertility medicine and pregnancy care," says Dr. Williams. DNA from the embryo or miscarriage sample material traditionally has been tested in the central lab using expensive and complex equipment and taking days to weeks to get results. Columbia researchers have developed a way to determine if a fetus or embryo has the right number of chromosomes at a fraction of the time and cost.
This test, called STORK (Short-read Transpore Rapid Karyotyping), delivers results in less than two hours and is about 10 times less expensive to process. After 10 years in development, STORK was authorized by the New York State Department of Health and is now available to Columbia patients.
"Having the STORK test allows us to test miscarriage samples to determine if they have aneuploidy, extra or missing chromosomes. This is, by far, the most common cause of pregnancy loss. In cases where the miscarriage had aneuploidy, we can provide a sense of closure. In cases where the pregnancy was genetically normal, we can investigate the cause of pregnancy loss and correct any issues to improve the chances of a successful subsequent pregnancy," says Dr. Williams.
The test can be used in prenatal genetic testing, recommended for women over age 35, and for those who have a family history of genetic disorders or have had one or more miscarriages. It is also used during IVF to test embryos before implantation to lessen the risk of miscarriage. The risk for an embryo to have chromosomal abnormalities rises from 25% for a woman aged 30 to 75% at age 42.
The center also has pioneered a method to use a device to allow patients to painlessly collect blood at home. This benefits patients who undergo repeated blood draws during IVF, as many as six in 10 days. After doing their own blood collection at home, patients drop samples off at the office for results available in a few hours.
Egg or embryo storage is available at the center, not outsourced. Patients can use a unique monitoring system—prebabymonitor. com—to keep their eyes on the egg or embryo. The center has "smart scales" to regularly monitor the weight of storage tanks so any changes in the amount of liquid nitrogen preserving the eggs or embryos at the precise temperature can be caught immediately to avoid the loss of embryos that has happened in other clinics. As nitrogen leaks, the weight of the tank drops, setting off an alarm much faster than an earlier system that responded to the rise in temperature but was often too late to save frozen embryos.
"Fertility treatment is one of the great triumphs of modern medicine," says Dr. Williams. "Over a span of a few decades, we've gone from success rates of under 1% to over 90% in many cases. We've gone from needing multiple IVF cycles for a chance at one baby to couples often being able to build a family from embryos they make and store after a single IVF cycle."
In the past six years, Columbia's fertility center has grown from performing 50 IVF cycles per month to 250 (more than 2,500 annually) while simultaneously improving quality of care, outcomes, and patient experience. It is the only fertility center in New York City to receive a platinum ranking, the highest ranking from the Society for Assisted Reproductive Technology, of which more than 90% of fertility clinics in the United States are members. The society members report data on more than 95% of all assisted reproductive technology treatments in the country.
"Since its inception, Columbia University Fertility Center has been a pioneer in assisted reproductive technologies including in vitro fertilization," says Eric J. Forman, MD, the center's medical and laboratory director and assistant professor of obstetrics & gynecology at VP&S. "Pioneers at Columbia have revolutionized how IVF is managed and have helped to continually improve outcomes. In recent years we have continued to improve the efficacy of IVF by developing novel genetic testing platforms, stimulation protocols, and the ability to monitor patients with fewer painful blood draws."
Experiencing Success
Hope Yates, a Columbia University employee, and her husband began trying to start a family shortly after marrying in 2016. Testing showed that male factor infertility was likely the cause of their inability to conceive, and IVF was recommended.
"Initially, I hesitated to use the place where I work for treatment for privacy reasons," says Ms. Yates. But an unsuccessful cycle at another center and the addition of a new, state-of-the-art lab at Columbia's fertility center changed her mind. After two more egg retrievals and three embryo transfers at Columbia, Ms. Yates became pregnant and delivered a healthy baby boy in 2020. After one more IVF cycle, their son was joined by his sister, born in 2022.
"Fertility patients are informed consumers, and the fertility center at Columbia has taken over the top spot for innovation in treatment, with the full scope of what is needed to start a family," says Ms. Yates. "They are driving innovation and change across every aspect of patient care."
---
Georgiana Jagiello: Fertility Pioneer
In 1966, reproductive endocrinologist and geneticist Georgiana Jagiello, MD, perfected a technique used for IVF procedures around the world. She had devoted her career to understanding the changes that occur in human egg cells as a woman matures and continued that work as a professor of obstetrics & gynecology and of human genetics at Columbia.
In 1976 she became the first woman appointed to an endowed chair at VP&S. By 1983, she was co-director of the Center for Reproductive Sciences at Columbia University, which opened on Valentine's Day that year and has since become known as the Columbia University Fertility Center.
In a biography published by the National Library of Medicine, she recalled the early years of the center: "My job was to set up the lab and the system for obtaining eggs. It was a very team-oriented procedure that involved a great amount of hands-on manipulation of the eggs. I knew what healthy human eggs looked like. Not a lot of people did at the time. I saw every embryo that went through here."
She received the VP&S Distinguished Service Award in 1997 for her research accomplishments. She died in 2015.
Debra Wolgemuth, PhD, professor of genetics & development and a Columbia faculty member since 1980, was Dr. Jagiello's PhD student from 1973-77 and recalls that Dr. Jagiello was "demanding but supportive, particularly of young women. She was ahead of her time and a feminist who encouraged more women in science."