Our History
The Department of Urology of Columbia University and NewYork-Presbyterian Hospital
Ranked as one of the top urology departments in the nation by U.S. News and World Reports, Columbia Urology has pioneered procedures to save lives and reduce pain and discomfort for its patients.
It was the first department to characterize bladder carcinoma in situ (localized), treated differently from other such cancers; the first to describe renal tuberculosis, a form of advanced kidney infection; and the first to outline and use the now well-known PSA (prostate-specific antigen) density test.
The history of the J. Bentley Squier Clinic outlined below describes the historic legacy of leadership and patient care that has continued to this day.
---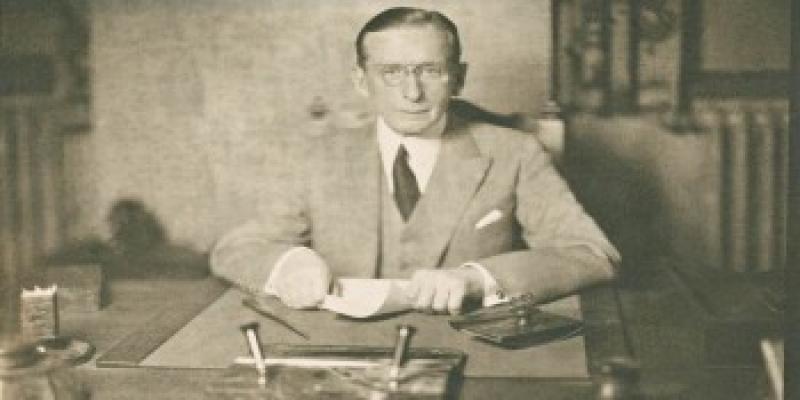 Dr. J. Bentley Squier (1928-1939)
The Urology Department at Columbia Urology, one of the oldest in the nation, dates back to 1917 when the extraordinary Dr. J. Bentley Squier, one of the most lauded doctors in his field, became Professor of Urology at Columbia University College of Physicians and Surgeons. In 1928, he founded the Squier Urological Clinic at Columbia University, which became a virtually independent Department with its own operating and cystoscopy rooms, its own pathology and x-ray departments, and even its own library. He established a 30-bed pediatric urology service in what was then Babies Hospital, which set the foundation for Columbia/NYP advances in pediatric urology care. In 1935, he became chair of Columbia University's first independent urology department.
The Squier Urological Clinic was made possible by the support of his devoted patients, who knew they could see Dr. Squier at midnight if they needed him. Not surprisingly, when word got out that he was establishing the Clinic, legions of loyal patients from around the world, including world heavyweight champion boxer Gene Tunney, New York Times publishers Adolf Ochs and Arthur Sulzberger, and Columbia University President Nicholas Murray Butler, came forward to support his efforts.
A person of unlimited energy, superlative surgical skill, and broad medical knowledge, Dr. Squier set a high standard for what is now one of the nation's most pioneering and accomplished urology departments. After receiving his medical degree at the age of 21 from Columbia University, he served at numerous hospitals in New York City while maintaining a large private practice. At age 39 he became the president of the American College of Surgeons and President of the American Urological Association, and was engaged with numerous institutions across New York's medical scene. As Professor of Urology at Columbia University Medical School and a Major in the U.S. Army, he campaigned to build the Columbia War Hospital to serve soldiers returning from World War I. The US Army General Hospital #1 was built on Gun Hill Road in the Bronx in less than one year and housed over 1,000 soldiers with injuries returning from the European theater.
Dr. Squier was the first in a series of illustrious urologists at Columbia/Presbyterian who helped establish the Urology Department's reputation for excellent patient care and innovative techniques in the field. Bentley Squier was legendary for his prostate and bladder procedures, performing quickly to help protect patients in an age when there were no antibiotics or basic anesthesia. There is an endowed Chair named for him at NewYork-Presbyterian Hospital.
---
Dr. George Cahill (1939-1950)
In 1939, Dr. George F. Cahill took over the Urology Department after the sudden death of Dr. Squier. He specialized in adrenal surgery and in particular early investigations into the care of patients with pheochromocytoma, a non-malignant tumor of the adrenal glands. He broadened the scope of the Urology Department by bringing a physiologist, an endocrinologist, and a pathologist to support the department work. Under his direction, a cancer research service at the Francis Delafield Hospital of the Columbia Presbyterian Hospital was initiated, leading to innovative basic and translational cancer research within a dedicated cancer center for the first time at Columbia. He expanded the number of residents in the medical program and its research programs. More scope was given to the work of uropathologist, Dr. Meyer Melicow, "father" of modern urologic pathology, who is responsible for defining the term "Carcinoma-In-Situ" (C.I.S.). Columbia University established an endowed professorship in honor of Dr. Cahill.
---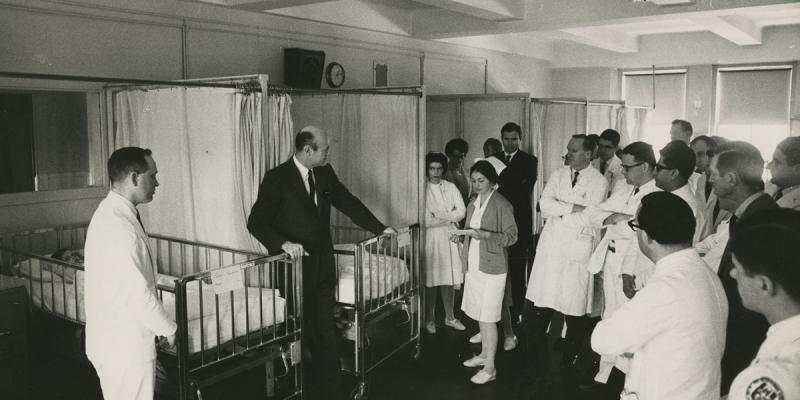 Dr. John K. Lattimer (1955-1980)
World War II veteran Dr. John K. Lattimer took over leadership in 1955. A Squier trainee, Colonel Lattimer served in World War II as an Army Chief of Surgery and Chief of Urology, treating soldiers during the Normandy Invasion, and then assigned as a prison physician during the Nuremberg Trials. Dr. Lattimer expanded training and educational innovations for young doctors, increasing the number of residents substantially in programs at Kingsbridge Veterans Hospital, St. Albans's Naval Hospital, Roosevelt Hospital, Harlem Hospital, St. Luke's Hospital, and many others. Under his leadership Columbia Urology joined forces with the National Institute of Health (NIH) traineeships program, expanding it to reach 100 Columbia urology graduates at one point. He instituted groundbreaking research and treatment of genitourinary tuberculosis. Dr. Lattimer expanded pediatric urology, which is now a major specialty area with its own team of doctors. He also developed innovative treatments for prostate cancer, combining different surgeries to prolong life. Columbia University established an endowed professorship in his honor.
---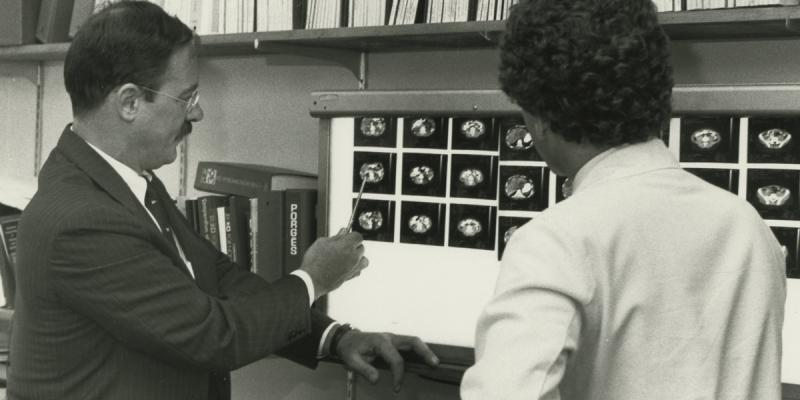 Dr. Carl Olsson (1980-2006)
In 1980 Dr. Carl A. Olsson assumed department leadership. Formerly Chairman of Urology at Boston University, Dr. Olsson is credited with establishing a full time faculty model of practice at the University and expanding the residency program to include a sixth year of laboratory research. Dr. Olsson was well known for his work in urinary diversion surgery as well as reconstructive urology. Under his leadership, the department's molecular biology research program flourished and garnered national recognition for fundamental work in castrate resistant prostate cancer under Dr. Ralph Buttyan. Innovative techniques introduced during his tenure include prostate cryosurgery, robotic and laparoscopic surgery for prostate cancer, continent urinary diversion for bladder cancer, nephron sparing surgery for kidney cancer, and landmark studies in serum biomarkers for both prostate and kidney cancer. Columbia University established an endowed professorship in honor of Dr. Olsson.
---
Dr. Mitchell Benson (2006-2014)
In 2006, Dr. Mitchell Benson assumed department leadership. Dr. Benson had earlier been credited with describing the widely utilized concept of PSA density in the diagnosis and prognostication of prostate cancer. Over the next 8 years, Dr. Benson re-established and expanded a basic science research division within the department, hiring Drs. Cory Abate-Shen, Michael Shen, and Carlos Cordon-Cardo, to join Dr. Cathy Mendelsohn. Dr. Benson also served as interim director of the Herbert Irving Cancer Center and helped relocate all urologic research laboratories into the new cancer center facility in 2007. During this time, the department also opened its first satellite division of Urology in Miami Florida, which currently has 5 full time Columbia faculty as well as its own accredited and independent residency training program.
---
Dr. James M. McKiernan (2014-Present)
In 2014, Dr. James McKiernan became the sixth chairman of the Department of Urology at Columbia University. He serves as the John K. Lattimer Professor of Urology and Chair of the Department of Urology of the College of Physicians and Surgeons and urologist-in-chief at NewYork-Presbyterian/Columbia. A graduate of Johns Hopkins University (B.A.,1989) and Columbia University College of Physicians and Surgeons (M.D.,1993), he is a specialist in bladder and kidney cancers. Prior to joining Columbia/NewYork Presbyterian, he completed a two-year urologic surgical oncology fellowship studying at Memorial Sloan-Kettering Cancer Center.
One of Dr. McKiernan's special interests is treating patients diagnosed with recurrent or high risk cancer diagnoses, and he has developed specific expertise in organ preservation and reconstructive surgery to maximize quality of life. He has authored and co-authored more than 130 scientific articles and book chapters in the field of Urologic Oncology, in publications such as Urology, Journal of Urology, Journal of Clinical Oncology, Urologic Oncology, British Journal of Urology, Cancer, and Cancer Research.
Dr. McKiernan also leads a team of researchers investigating the clinical outcomes of patients with kidney, prostate, and bladder cancer, with a view towards improving the quality of their care. He also devotes considerable time to various teaching and mentoring programs for medical students. Under his chairmanship the Urology Department opened its first Westchester, New York offices.