Education
Hematology and Oncology are likely to be among the most dynamic subspecialties of Internal Medicine in the next few decades based on continuing advances in laboratory, clinical, and public health research. The Division of Hematology/Oncology in the Department of Medicine at Columbia prepares its fellows to be creative and productive contributors as researchers and clinicians. Our program provides a broad-based clinical training and rigorous development of a research project with opportunities to work with world-class investigators in an outstanding Ivy League University. Fellows may select options leading to either single or dual board eligibility with either 12 or 18 months, respectively, of direct patient care activity, and an equivalent duration of research training in laboratory, clinical, or public health research. The Division also supports Fellowship Training for Clinician-Scientists enrolled in Clinician-Scientist Training Programs (so-called "Short Track").  Some of the highlights of our program are summarized below.
Clinical Training
Our clinical training program features diverse patient care experiences in a dynamic hematology and oncology inpatient, consult, and outpatient environment. Although CUIMC is a referral destination for patients not only in the New York Metropolitan area, but nationally and internationally, it is also a hospital that provides care to an often otherwise underserved population in Upper Manhattan. As a result, fellows manage patients at every stage of disease, from initial diagnostic evaluation to supervision of investigational treatments. Fellows train directly with recognized experts in disease-focused inpatient and outpatient rotations. Fellows are very much the center of our clinical investigation activities, which range from single-institution, investigator-initiated studies to multi-institution protocols sponsored by the Herbert Irving Comprehensive Cancer Center, and cooperative groups such as the Southwest Oncology Group. This research encompasses Phase I, II, and III trials, large populations studies using local and national databases, as well as translational correlative research that leverages Columbia's rich tumor sample bank, clinical database, and access to cutting edge science, such as internationally recognized Columbia Genome Center.
Fellows in the Medical Oncology and Hematology Fellowship Program receive comprehensive training that leads to board eligibility in hematology and/or medical oncology. In addition, fellows are able to obtain specialized disease-focused expertise in areas that include:
Non-malignant hematology
Leukemia
Lymphoma
Multiple myeloma
Bone marrow transplant
Breast Cancer
Sarcoma
Melanoma
Gastrointestinal oncology
Genitourinary oncology
Thoracic oncology
All fellows have time that is protected for research that is at least 12 months for fellows pursuing single board eligibility, 18 months for fellows pursuing dual board eligibility and 36 months for fellows in the Physician-Scientist Research Pathway (pursuing single-board eligibility).
Research Training
Between first and second years fellows participate in a summer grant-writing workshop that allows each to identify a research mentor and develop a research proposal to obtain research funding such as the the ASCO Young Investigator Award. This experience allows fellows to learn the process of proposal development and grant submission. These projects are then executed during the second and third years. Outside funding is not a requirement, but those who obtain awards may use them to conduct research beyond the third year of clinical fellowship and board eligibility. Fellows may select laboratory research, clinical research, or epidemiology and population science in the Mailman School of Public Health.
Laboratory-focused Research
Fellows pursuing laboratory-focused research take advantage of the Herbert Irving Comprehensive Cancer Center (HICCC) and the more than 250 laboratories located in the HICCC. Fellows may also choose one of the more than 1000 laboratories at Columbia University Irving Medical Center and Columbia University Morningside Heights campus.  Faculty include some of some of the most innovative cancer researchers in the country and Columbia faculty received nearly $500 million in research funding in 2021 from the National Cancer Institute.  Fellows may choose co-mentors who bridge research areas or choose laboratory and clinical co-mentors.
Shared Resources at HICCC
Biomarkers
The Biomarkers Shared Resource (Biomarkers SR) is a joint resource of the Cancer Center and Columbia's NIEHS Center for Environmental Health in Northern Manhattan. It provides a centralized, efficient, and cost-effective resource for receiving, handling and storing human samples that are collected as part of research studies in molecular epidemiology and other types of cancer-related research. 
Biomedical Informatics
The mission of the Bioinformatics Division of the BISR is to support HICCC investigators by giving them access to key expertise in the use of advanced data analysis tools and methodologies for research publications and grant proposals, reflecting established best practices, access to state-of-the-art software, databases, and models for basic research, and access to high-performance computing infrastructure for data analysis and data sharing.
Cancer Biostatistics:
The mission of the Cancer Biostatistics Shared Resource (BSR) is to provide statistical support to HICCC investigators from the study design stage of a project through to its execution, analysis, and interpretation, and finally, to the dissemination of the work.
Confocal and Specialized Microscopy
The Confocal and Specialized Microscopy Shared Resource (CSMSR) provides advanced microscope systems for multidimensional optical imaging of living and fixed cells and tissues. The CSMSR offers a wide range of state-of-the-art microscopy technologies, from super-resolution microscopy to laser capture and microirradiation.
Database
The Database Shared Resource provides oversight and infrastructure for the development and maintenance of cancer-related clinical databases and biobanks for the collection of data and biospecimens.
Flow Cytometry
The Flow Cytometry Shared Resource provides training and access to state-of-the-art flow cytometry for biomedical investigators at CUIMC.
Genetically Modified Mouse Models
The Genetically Modified Mouse Models Shared Resource makes the generation and analysis of genetically modified mice available to all HICCC members.
Genomics and High Throughput Screening
The facility provides access to specialized instrumentation and technical expertise in highly complementary service components that include Next-generation sequencing, High throughput screening, High content microscopy, Medium throughput molecular screening, and Single cell analysis.
Molecular Pathology
The Molecular Pathology Shared Resource (MPSR) facilitates tissue-based, human and experimental, basic science and translational cancer research through three integrated services: Histology, Tumor banking, and Macromolecule platform (next-generation banking).
Oncology Precision Therapeutics and Imaging Core
The goal of Animal Imaging is to provide access to a broad range of in vivo imaging technologies including molecular imaging technologies such as optical imaging, quantitative physiologic imaging with ultrasound, and anatomic imaging with magnetic resonance imaging (MRI).
Proteomics and Macromolecular Core
The Proteomic and Macromolecular Core supports both discovery-based and targeted proteomic analysis.
Clinical Trials Research
Columbia is a leading center for clinical trials that span early phase, first-in-human agents as well as phase III trials that often serve as the basis for drug registration. Many of our fellows play an integral role in translational investigator-initiated trials that are often collaborations between clinically-focused and laboratory-focused investigators. Clinical research at Columbia is supported by a state-of-the-art Ambulatory Investigational Research Infusion Center, which facilitates early-phase clinical trials by collecting samples for pharmacokinetic and pharmacodynamic analysis. Clinical research is also supported by the Clinical Protocol and Data Management Program which is a centralized office composed of trained regulatory, financial, clinical, study management, and compliance personnel who promote uniformity and consistency in clinical research by providing support for principal investigators and patients. Fellows, under the supervision of our clinical faculty, many of whom are recognized as leaders in their fields, learn the intricacies of clinical trials development, which can include negotiation with Pharma, development of investigator-initiated trial proposals, protocol writing, regulatory approval (including FDA and Columbia IRB), subject recruitment, clinical trials conduct, data analysis, results presentation, and manuscript writing.
Cancer Population Science Research
Cancer population science research at Columbia encompasses studies that address primary prevention, risk assessment, and early detection, health outcomes, survivorship and care delivery, and global health. Fellows may choose among more than 50 faculty mentors, many of whom are nationally recognized thought leaders. Fellows, under the supervision of our clinical faculty, conceive the research concept, write the research protocol, obtain regulatory approval participate in subject recruitment, clinical trials conduct, data including database analysis, collaborate with biostatisticians, prepare results for presentation, and lead manuscript writing.  Research in this area is supported by Columbia's Mailman School of Public Health, which is located at CUIMC, and many of the faculty in the Division of Hematology and Medical Oncology holds joint appointments at the Mailman School.
All fellows choose at least one primary mentor and may also choose a co-mentor.  Fellows typically initiate the selection of a research mentor in the fall of the first year of fellowship training. The selection of a research mentor is supported by meeting with Fellowship Program Leadership, the Division Chief, and often, with the Director of the Herbert Irving Comprehensive Cancer Center.  Many of the Cancer Center Faculty present research opportunities for Fellows in the two research afternoons that are scheduled during protected didactic time in the fall. It is expected that fellows will have an opportunity to meet with other members of the research team and to sit in on lab or research meetings prior to selecting a mentor and will be excused from clinical obligations if necessary. In the spring of the first year, fellows will submit a research proposal that has been developed with their mentor(s) to Fellowship Program and Divisional Leadership. The submission also includes a letter from the research mentor that delineates the mentorship plan, including the mentor's plan for career development. The research plan and mentor's letter are reviewed by Fellowship Program leadership, the Division Chief, and the Clinical Competence Committee. If necessary feedback is provided to the fellow and mentor(s). The Clinical Competence Committee reviews research progress at 6-month intervals to ensure that programs remain on track.
Conquer Cancer Foundation: Young Investigator Awards
We are pleased to announce the following Hematology and Medical Oncology Fellows received Conquer Cancer Foundation Young Investigator Awards:
2023 ASCO Conquer Cancer Foundation Young Investigator Awards
Lanyi Nora Chen, MD; "A Phase I/II Trial of Tebentafusp with Hepatic Immunoembolization for Metastatic Uveal Melanoma."
Brian Chernak, MD; "Assessing the Role of Serum Amyloid A1 (SAA1) as a Serum Biomarker and Therapeutic Target in Myelodysplastic Syndromes."
Kristine Lacuna, MD; "A Phase 1/2 Study of Eltanexor and Ixazomib in Advanced Sarcoma."
Monica Kasbekar, MD PhD; "Dissecting the Drivers of Clonal Hematopoiesis to Mitigate Clonal Expansion and Transformation to Acute Myeloid Leukemia."
Yun Kyoung Ryu; MD PhD; "Enhanced Efficacy of Anti-PD1 Antibody in Germinal Center Derived Lymphoma Through Combination Therapy with EZH2 Inhibitor and Novel Histone Acetyltransferase (HAT)
Seda Tolu, MD; "Epigenetic Priming of Immune Checkpoint Blockdade for the Treatment of Primary Mediastinal B-cell Lymphoma."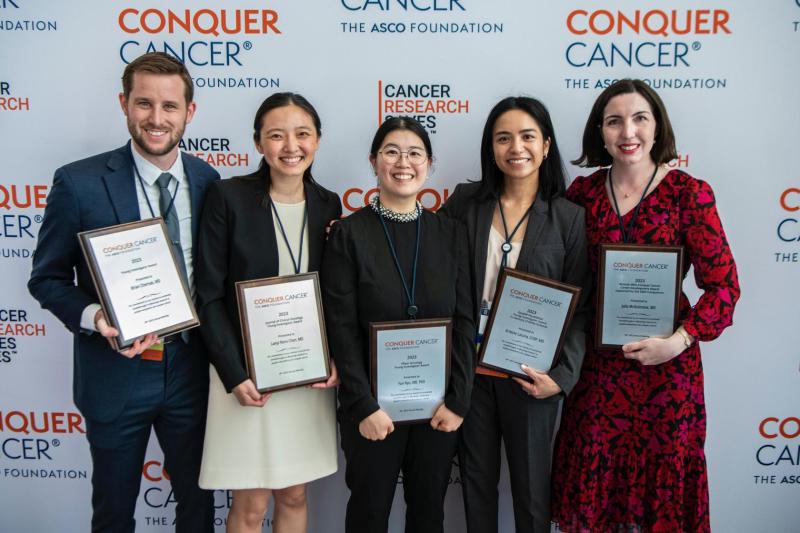 2022 ASCO Conquer Cancer Foundation Young Investigator Awards
Kara Cicero, MD; "Prevalence and Risk Factors of Monoclonal Gammopathy of Undetermined Significance in a Black Sub-Saharan African Population."
Jacob Cogan, MD; "Efficacy of a Pill-Dispensing System to Increase Disposal of Unused Opioids and to Reduce Refills after Cancer-Related Surgery."
Mariam El-Ashmawy, MD PhD; "Development of Combination Targeted Therapeutics for KRAS-Amplified Gastroesophageal Cancer."
Faculty
The Division is comprised of over 60 faculty members ranging from clinicians to internationally known basic scientists. The faculty's wide-ranging research activities often lead to collaboration with other faculty across the Medical Center.
Career Development
AACR/ASCO Methods in Clinical Cancer Research Workshop
The Division of Hematology and Medical Oncology supports fellows to apply to and attend this Workshop. The Workshop is a weeklong educational program that covers clinical trial design, methodology, and implementation through a variety of large and small group formats to discuss the full spectrum of challenges and opportunities in clinical cancer research. The hallmark of the Workshop is the production of an institutional review board (IRB)-ready clinical trial protocol with informed consent documents from each participant.
Career Evenings
The Division supports informal meetings with individuals who have used training in Hematology and Medical Oncology to support a variety of careers, including those who have pursued laboratory-focused academic research, clinically-focused academic research, clinical care in the community, careers in the pharmaceutic industry, government service including the Food and Drug Administration and in nonprofit organizations such as the Leukemia and Lymphoma Society.
Grant Writing Workshop
All fellows participate in the Division's Grant Writing Workshop in the summer of the second year of fellowship. Over an 8-week period, fellows will learn how to write a research grant, including abstract, specific aims, background, methods, and research proposal. Fellows will prepare NIH Biosketches and, with the support of the HICCC, have access to biostatisticians to prepare their submissions. The Grant Writing Workshop has supported ASCO's Conquer Cancer Foundation Young Investigator Award and ASH's Research Training Award for Fellows among others. More than 60% of our fellows have had successful submissions since 2016.
National Meetings
Fellows in their second and third years receive Divisional support to attend at least one national meeting. This support allows fellows to present their research and to make connections that facilitate subsequent job offers.
T32 Molecular Oncology Training Program:
Our Division's Molecular Oncology Training Program is supported by a T32 Training Grant from the National Cancer Institute. While not all of our fellows derive financial support from the grant, all of our fellows participate in the Program which includes the annual presentation of research-in-progress to faculty and other participants. This allows fellows to develop research presentation skills and receive constructive feedback in a supportive environment.
Facilities
The clinical activities of the Division are based in the recently remodeled Herbert Irving Pavilion and the 40-inpatient beds on the Hematology Oncology Service of NewYork-Presbyterian Hospital. The research activities of the Division are conducted in the hospital, the Mailman School of Public Health, the Irving Cancer Research Center, and other laboratory buildings throughout the Medical Center campus.
Map of Columbia University Irving Medical Center
---
Columbia University
Columbia University is a private Ivy League institution with a national and international reputation for excellence in scholarship. From its founding in 1754, the University has played a significant role in American academic life and its graduates have distinguished themselves in many fields. Columbia is a leading institution in New York, as well as nationally, in terms of the number of Nobel laureates, number of Howard Hughes scholars, and ranking in biomedical grants relative to other institutions. Columbia University, Vagelos College of Physicians & Surgeons awarded the first MD degree in North America in 1770.